Features
Revive Messages
The bot sends a reanimation message when the chat is dead
Customize the message as much as you want
You define when it's dead
Pick a role to ping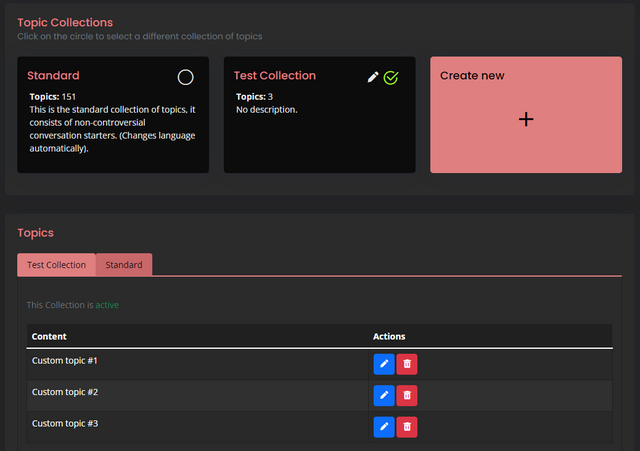 Custom Topics
Add your own topics which will be displayed whenever people don't know what to talk about.
Create collections which allows you to easily switch between different groups of topics
Default collection of 151 conversation starters
Auto-translated default topics
Nightmode
Stop the bot from pinging while everyone's sleeping
Customize the schedule
Customize the timezone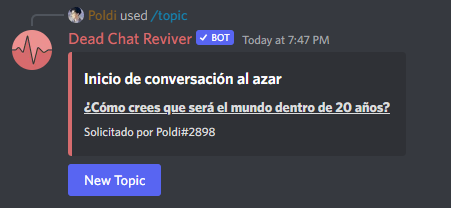 Multi-Language
Pick one of 5 different languages
Supported languages:

English
German
Spanish
French
Italian
We do not support spamming and try to ban everyone who does so.
Read more here.
Commands
Command
Usage
/help
Outputs some information about the bot and its commands.
/settings
Allows you to change the language and more. lang - The new language
/dashboard
Sends you the link to the dashboard.
/setup
Sets up a revive message for a channel. Use the same command to change your settings.

channel - The channel on which these rules should apply
time - Amount of time the channel should be inactive for the bot to activate
role - The role you want to ping when the chat dies
/delete
Removes a revive message channel.

channel - The channel whose revive message is to be removed
/list
Displays a list of all revive message channels and their settings on the server.
/topic
Sends a random conversation starter to help reviving the chat.
/nightmode
Stop the bot from pinging while everyone's sleeping.

channel - The channel whose revive messages nightmode is to be set up
/create topic
Creates a new collection of topics for the server.
Invite the Dead Chat Reviver now!
Prevent your server from dying by adding DCR to your server!
Developer
Poldi
Developer & Creator